Friday, March 27, 2009
Website is back online
After switching to a better hosting plan (= more storage and higher bandwidth allocation) my website and blog became inaccessible for a short while. The issue is fixed and now everything is back online. Sorry for the inconvenience.
Saturday, March 21, 2009
Belgian TechDays 2009 Presentations
While I'm waiting for the nice folks in Belgium to post the videos from TechDays 2009, I though I'll make the presentations available. Download the pre-conference talk "Introducing Oslo" and the conference talk "Modeling with Oslo" here (4.5 MB).
Labels: Oslo
Monday, March 16, 2009
Belgian TechDays 2009
Just came back from presenting at the Belgian TechDays in Antwerp, Belgium. The conference was held in the Metropolis cinema complex, which meant HUGE digital-display screens that showed the slides on the right and a close-up of the speaker on the left. This was one of the best breakout-session setups I've seen in a long time.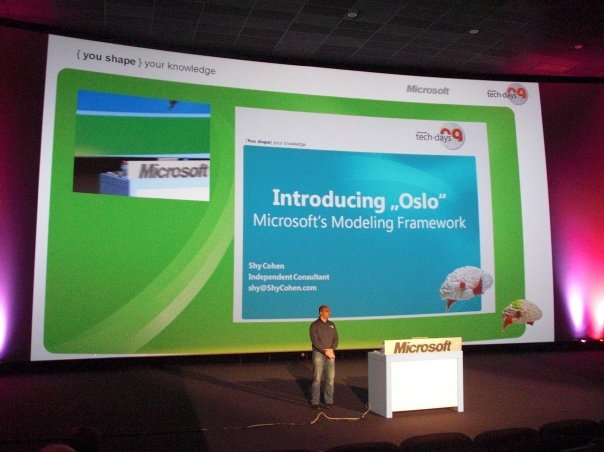 (Image taken by Lynn Langit)
My first talk was at the pre-conference. It was an Architect-oriented talk about Oslo and modeling. I talked about software modeling in general, showed the Repository and how it works, and gave an overview of the M family of languages and its accompanying toolset.
My second talk was at the conference itself. It was a Developer-oriented talk that focused primarily on modeling with M. The talk consisted mostly of demos: defining data structures and instances with M, creating a DSL and using it to generate instances, and using an interpreted DSL to drive a runtime without first putting the data in persistent storage. As I understand it, the presentation videos will be posted online by Microsoft Belgium. Once they are, I'll post the links.
I'd like to take this opportunity to thank the Belgian team for their wonderful hospitality – it was my first time in Belgium and I'm already looking forward to coming back.
Subscribe to Posts [Atom]